I spent pretty much the whole of the first week of the Easter Holidays sewing. but the second week has been far more cultured. John & I decided to spend a couple of days in London (without the kids).
So on Tuesday we dropped the dog off with my mum and the kids at my mother in law's and early on Wednesday we caught a train to the capital. We made the decision to travel really light as it costs soooo much to leave bags at coach or train stations, so armed with one small rucksack we were ready to go.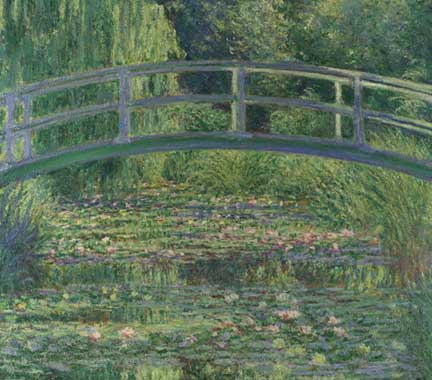 Monet, The waterlily pond - National Gallery
Our train arrived at 10am and we headed straight to the National Gallery at Trafalgar Square. It takes me a little bit of time to get my bearings and then I'm pretty good at navigating the capital, although the distances sometimes fool me! We went for the 18th Century onwards exhibitions - looking mainly at the impressionists and more recent work. Although we did spend a little bit of time looking at some of the Holbein and Vermeer work. Some of the early icons were also impressive.
Just time for a quick browse at liberty before lunch.
Anish Kappor - Ishi's Light - Tate Modern
Lunch was a rather overpriced, but tasty Chinese meal and then it was off to the Tate Modern. I really enjoy exploring the tate, but it is huge and you just can't do it all in one day. As were were getting ready for a sit down and coffee, my sister called me.
She works in London and had an hour to spare before meeting a friend. We met up at the embankment park and enjoyed and hour's catch up in the sunshine before heading off for some tea. This time we headed for the Tokyo Diner. Probably my favourite meal of the trip, and reasonably priced!
Tokyo Diner
The it was back to the south bank for our evening's entertainment. We'd booked to see Twelfth Night at the National Theatre. I've never seen a production of this Shakespeare play before and it was brilliant! The set was stunning and the actors were brilliant.
Well known british Comedy Actor Tamsin Grieg was just hillariously funny. One of the best shows I've seen!
It was a late finish and after the show we headed straight to our hotel. Just a travelodge, but it was clean and comfy. its safe to say my feet were aching after the 27,000 steps we'd done that day.
On Thursday we'd booked a tour around the west part of Highate Cemetery. It was such an interesting place, and our guide had lots of stories about the history of Highgate and stories about some of the people in it. We also explored the east side and John had his photo taken at Karl Marx's grave. This is the most visited grave in Highgate. The west side is overgrown in many areas and the self-seeded trees have made many of the monuments unsafe, so the public are only allowed to visit as part of an organised tour. If you are in London and do want to see something different I can highly recommend visiting here.
Higate Cemetery - west.
After a quick Lunch, grabbed from
Herman ze German
(Bratwurst and chips), we headed off to the Tate Britain to see the David Hockney exhibition. This was a fantastic retrospective of his work and includes recent pieces too. it's safe to say Hockney has really moved with the times, from Angst ridden art student paintings to the iPad and filmed landscape work he has produced in the last few years. I've even downloaded the same iPad app so I can have a go.
David Hockney
David Hockney
David Hockney
Above is a selection of Hockney's work on exhibition at the Tate.
by Cerith Wyn Evans, Tate Britain
As we were coming out of the Hockney exhibition this work caught my eye. It fills such a vast space and the shapes created change depending on your viewpoint.
Back to Soho for food and then the train home. Two very tired people with very tired legs, but a great time was had!